Please register for updates over at right =======>>>>>>>>>>>>
My twin granddaughters wanted me to make them each a wooden egg. My thoughts went directly to a hollow egg, or wooden container. With dry urban harvested walnut, I started to turn the two eggs.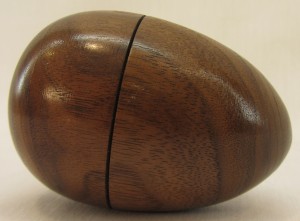 The first egg was nearly a disaster. I had turned the tenon too small for my dovetail jaws. No problem, I have a set of smaller jaws. But these are not dovetail. So, Had to turn the tenon down a bit more. Then while turning, these jaws only contact the wood at 4 very narrow points. The dovetail jaws would have grabbed at 8 points. The consequence was that the blank popped out of the jaws several time when I was more aggressive.
I had fitted the top and bottom before one of these popouts. When remounted, the rotation was very slightly different when made the fit between top and bottom very loose. So, turn the joint down and start fitting again. Oh well. The first egg turned out more ball shaped than egg shaped.
So I moved to the second egg and had much better luck. The second egg is featured in this video.