by
Alan Stratton
on Thursday, December 20th, 2012 |
Comments Off

on A Faux Inside Out Christmas Bell Ornament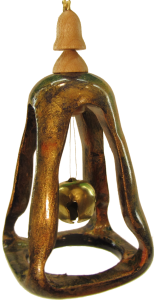 This woodturning is made of maple poplar about 4″ tall and 2″ in diameter. The poplar bell is finished with acrylic paint for an antique look. The maple finial is finished with shellac. The ornament has a handmade brass hanger.
Instead of being turned inside out, the center shape was drilled out with forstner bits. Small bits marked the top and bottom corners. Larger bits bored out the center of the bell.
After mounting the ornament on the lathe, the bottom was also bored out with a forstner bit. Then the outer shape was turned. With the void in the middle, each stoke had to be with extreme care. Then center void was refined with rasps and sandpaper.
The maple finial has a bell shape. A brass bell is the knocker for the larger bell. This is a bell within a bell suspended by a bell.
This ornament is part of the Christmas Ornament Woodturning Challenge 2012. Please view the playlist at http://www.youtube.com/playlist?list=PL4W9FE566kZhU-Mo7smbQgsUb-wpUJGom. Carl Jacobson and I are sponsoring this challenge.