by
Alan Stratton
on Friday, January 11th, 2013 |
Comments Off

on Woodturning A Round Train Whistle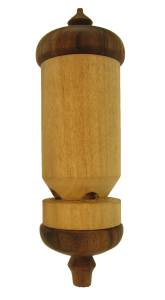 Recently Steve Ramsey on his YouTube channel made a wooden train whistle out of square pine. Immediately, it occurred to me that a train whistle must be round. So I made this whistle out of poplar with walnut end caps. It is about six inches long with a diameter of about two inches.
There are four whistle chambers in this train whistle. Varying chamber depths determine the different pitches when you blow on the mouthpiece. The longest chamber is nearly the length of the body. The shortest is about half that depth.
One end cap is only decorative with a small finial. The top end cap contains a mouthpiece and an air distribution chamber to the four whistles in this project. The tricky part is the opening in the side of the whistle body and getting the reeds just right.
The project is finished with a mix of mineral oil and beeswax. Tools used were a bowl gouge, skew, spindle gouge, parting tool, and a bedan.