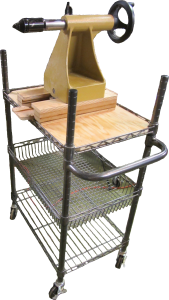 The tailstock on my full-sized Powermatic 3520A is heavy. I have to remove it from the lathe to hollow a bowl or a hollow form. It's so heavy that I worry about dropping in on my toes or straining my back. If I leave it on the lathe, I risk banging an elbow. Ouch!. It was time to fix this "Health & Safety" issue.
I searched for solutions including commercial solutions. They're nice but expensive. A fellow woodturning club member used an electric lathe. Another viewer made a hinge to swing his tail stock off to the side.
I needed it clear out of harm's way.
I purchased a wire cart and made an extension to the lathe bed ways. A short piece of plywood aligns the extension to the lathe.
With all in place, I easily pull the tailstock off and move it out of the way.
When I need it again, I push the cart against the lathe, it automatically aligns to the lathe and I push the tailstock back onto the lathe.
No risk now for dropping it on my toes or straining my back. No excuse now for moving the tailstock away to save my my elbow.