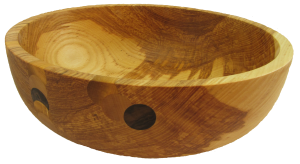 Several years ago I rough turned a beautiful 13 by 6 inch bowl from a green or wet piece of ash. I promptly waxed the rough bowl, put it in a paper bag, and placed it on a shelf to dry. I intended to leave it for about a year.
More than the allotted time has passed. You could say that life interfered. In the meantime the bowl cracked severely while drying.
What a disappointment! I don't want to burn it now that it is dry.
I decided to fill the cracked with a series of plugs from different hardwoods: Apricot, Walnut, and Maple.
After re-truing the tenon and smoothing the rim, I drilled one inch holes at the top of both cracks plus another to provide symmetry. After inserting a turned dowel into this first set of holes, I returned to the drill press to drill another set overlapping the first set. I repeated this process for a total of five sets of plugs.
Then I proceeded to remount the bowl, turn the outside and hollow the inside. The bowl is finished with walnut oil.
Instead of cracks I have a symmetrical design and a very nice, large ash bowl, much, much more than firewood.