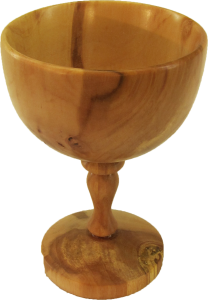 I pruned a branch off my apple tree last winter and rough turned a small goblet. I had to dodge a lot of rotten wood to form the goblet. Then I waxed it, put it in a paper bag, and put it away to dry.
In the mean time, it has lost 34% of its weight while drying.
Now it's dry and it's time to finish this cup for valentine's day treats. The cup is about 5″ tall and 3″ in diameter. CA glue has stabilized the rotten wood. The cup is finished with shellac friction polish. It was turned in stages: cup interior, cup exterior, and finally the stem and base. The wood was sanded and finished with each stage. Otherwise, vibration from the thin wood would have inhibited good turning.