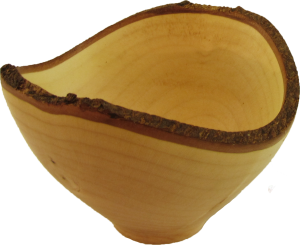 A year ago, a limb of a maple tree fell on a friend's home in a storm. He gave me some of the wood for woodturning. From the wood, I turned two natural edge bowls.
The first bowl I turned all at once, finished it, then let it dry. I posted its video  then.   Since then, it has warped a little.
The second bowl I rough turned, waxed it, and put it away to dry. While drying, it has lost over 30% of its weight in moisture loss. It also warped.
The difference is that I have now finished the second bowl. Having left the walls a bit thicker allowed the bowl to warp and still have enough wood to turn it round again.
It is difficult to see the difference in a photograph. However, the first is a little oblong while the second is perfectly round. The irregular rim from the natural edge disguises the difference. Most of the wood was removed while still wet and soft from both. Sanding is more difficult on wet wood because it gums up sandpaper in a flash. Turning dry wood is a little more difficult than wet wood. Each process is fun, each has its challenges and benefits. The biggest difference for the second bowl is that it is hard to wait while the wood dries but the bowl is perfectly round.