by
Alan Stratton
on Friday, March 1st, 2013 |
Comments Off

on Spin Top Turn Off From Desert Woodturning Roundup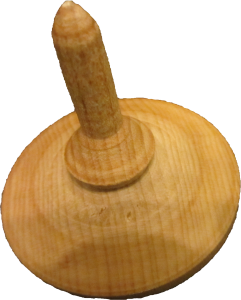 I had some fun at the 2013 Desert Woodturning Roundup in Mesa, Arizona.
While at a break between exhibits, a man came by offering some time to woodturn at a lathe. I said ok.
Later I learned that it was a timed competition including many of the professional presenters including Richard Raffan, Michael Hosaluk, and Matt Monaco. This made me nervous. For each round, two people came to identical lathes with identical tools. We had some time to mount a square block of maple, test the lathe, inspect the tools, (spindle gouge, bowl gouge, spindle roughing gouge, and parting tool) and get the lathe up to speed.
In the first couple of rounds, at least three of the maple blocks went flying off the lathes. With the time to replace the wood, they did not finish. This made me even more nervous. I decided I had no chance of winning against Richard Raffan. So I focused on finishing my spin top without it flying away and within the five minutes allotted.
There was not time to make a decent tenon or to check for round. Time was flying by. I did some things that cost me time that I would change and my design was slightly more complex than necessary.
In the end, I finished in three minutes and thirty-five seconds and won my round. I was nowhere close to winning the competition since Richard Raffan finished in 44 seconds with Mike Hosaluk right behind him at 45 seconds. A couple of the fastest tops were not quite round. But the only test was whether they would spin.
It was fun despite my nerves.