by
Alan Stratton
on Friday, March 15th, 2013 |
Comments Off

on Woodturning A Pot O' Gold Bowl For Leprechaun Gold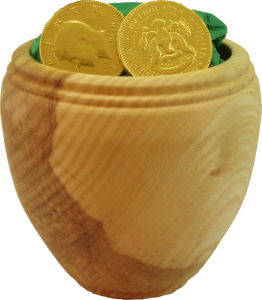 For St. Patrick's Day, I need a pot for the leprechauns to leave me a little of their gold. Fortunately, at a recent club meeting, Nick Stagg demo his bowl turning techniques. And even more, he gave me a big block of ash that he had used as a jam chuck.
However, in my haste to leave town for a long trip, I neglected to protect the ash blank. While I was gone, it developed several large
checks in the end grain. I thought I would just turn the bowl down by one half to one inch to get rid of the checks.
Boy was I wrong, the checks went very deep. Now I have a small bowl for the leprechauns' gold. But I'm not greedy – I'll be happy with whatever they leave me.
This bowl is about 4 1/2 inches in diameter and about 4 inches in height. It is finished with mineral oil and beeswax. This wood was green — so there will be more shrinkage and warping. Hopefully, it will enhance the bowl's character.
With what I learned at a Richard Raffan course I attended while on my trip, I changed my mount tenon to a small bead instead of a large dovetail tenon. It worked and I did not have to remount the bowl after hollowing to finish the foot.
We'll have to see what happens to this bowl as it dries. If necessary, I can still remount it to thin it down a little and/or to remove bad warping.
Now, if the leprechauns will leave me a little gold…