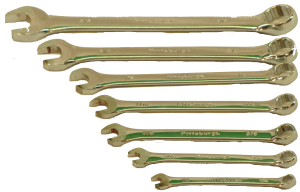 I cut tenons regularly to join different pieces of a project together. They're a common element but I really hate it when I cut one too small. The flip side is stopping the lathe so often to creap up on the perfect size. Many times I've used a open end wrench to help size.
But a viewer suggested I grind an edge on one side of the wrench. Then I'd have a tenon cutter and a tenon sizer in one tool.
So here we have a set from 1/4 inch up to 3/4 inch made from a cheap set of end wrenches. Grinding was not as simple as I had thought but not so complex in the end. All it took was a little time at the grinder.