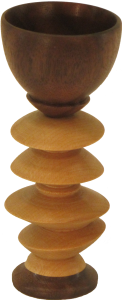 In this video, I try my hand again to turn an eccentric goblet. I'll turn the eccentric stem separately from the cup and the base just to keep things a little easier.
The stem is 2×2″ maple about 6″ long. I started turning with the axis running almost corner to corner. Then as I finished a bead, I changed the axis. The result is a little guess and by gosh but I tried to keep the main stem somewhat in line as it comes up thru the beads. I sanded each groove as I completed it as I'm sure I could never reposition the wood back into that same position. I used a long strip of sand paper to keep my hands out of harms way.
But after several beads, the eccentric ghosts came to haunt my goblet. The stem failed and I lost what would have been the top third of the stem.
Now it became a salvage operation. I finished off the stem, then turned a cup and a small base from walnut.  The hard part now was to carefully trim back the rough area from where the stem broke.
The goblet is finished with shellac friction polish.
This goblet does not have the dramatic sweep I intended – it's kind of short and plump. But, I'll be trying this one again. I cannot let the eccentric ghosts get the better of me!