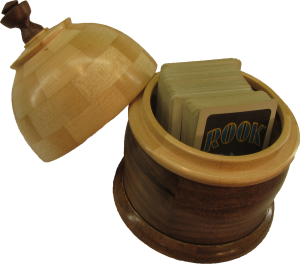 During a visit with my brother, we were playing cards and talking about possible woodturning projects. He suggested a box for the playing cards. I said, no problem but it would be round. He insisted that it should be square to properly hold the cards.
It was a puzzle but this video is one expression of this idea.
The box is square inside to hold the cards but round on the outside.
My first thought was a stave construction but that was a problem. For vertical or horizontal grain staves, there could be only for to maintain a rectangular interior. My walnut was not wide enough for this sort of stave.
Then I though of running the staves with horizontal grain – around the box. That was also fine except for the width again would not make the box tall enough. Okay, I could use segmented construction to form the lid. Even then, I needed a separate base and rim to make the bottom tall enough for the cards.
So, this box was quite a challenge.
The base is walnut; the lid is maple; the finial is walnut. It is about 7″ tall and a little over 4 inches in diameter.
The interior is large enough to hold several decks of standard sized playing cards. It is finished with friction polish.