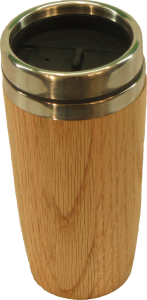 A couple of viewers suggested a video turning a travel mug. I have some leftover oak stair tread cutoffs from a friend and a 16 ounce travel mug insert from Rockler. This will be a segmented cup using stave construction.
First, I cut the oak into staves using a sled designed for stave segment cutting. With the sled I can safely and accurately cut the angles required on these staves which is 22.5 degrees. Eight staves are needed.
Then I glued the staves into half cylinders, sanded the faces to true them up, and glued the two halves together. I'm experimenting with Titebond Original Extend glue. This is supposed to have a more rigid glue line and be better for segmented construction.
I used cone shaped threaded faceplates for the initial cylinder roughing. As soon as possible I turned a tenon so it could be mounted in a 4 jaw chuck.
Next, I bored the center with a 2 inch forstner bit then the remainder of the hollowing with a round carbide cutter. This was the tough part — it was hard work. My home made steady rests provided more stability and security.
Next, I shaped the exterior including a rabbet for the lip of the cup.
This left me with the center of the base. This I bored out with a forstner bit then turned a plug to fit. After finishing the plug, I glued the insert into the oak shell.
This travel mug is finished with wipe on poly.