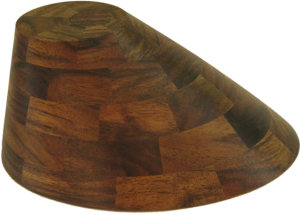 Last weekend, I was inspired during a visit to the Tacoma Museum of Glass. While I saw all sorts of glass objects, few were functional items. Why do I think a woodturned object must be functional. NOT! As a first step into this brave new world, I decided to make an object similar to one I saw during the exhibit by Australian glass artisans. The only problem is — I'm not sure what to call it.
Essentially, I'm turning a cone but at a slant. The segmented rings run parallel to the future base which winds up looking very oval.
The glue up is both easier and more difficult than a normal segmented piece. Easier in that I don't have to pay much attention to exact ring positioning. More difficult in that the stack is shifted to one side and very difficult to visualize. The stack consists of 3 layers of 3/4″ MDF and 5 layers of segmented walnut rings about 11/16 inch thick. The top ring is plugged with a turned walnut plug.
I sawed the MDF base at a 20 degree angle and mounted the stack on a faceplate with hot melt glue. I also added some sacrificial pine at the other end. This pine will form a tenon that I'll use later to reverse the mount. With all turning done, I sawed off the remaining MDF and pine, sanded and finished the piece with walnut oil.
It was a challenge to make but I like it. It sets the stage for many future variations as I abandon the requirement that my woodturning projects be functional objects.