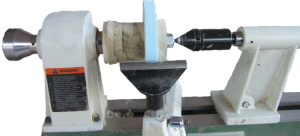 When I use my portable mini lathe "On Location" I sharpen my lathe tools before I leave. The problem is that all these tools get dull as I use them. My grinder is nice but not portable.
So what can I do? Keep using dull tools? Use my diamond hone more? Try some way to use a flat wetstone.
While at a workshop, I brainstormed this problem with Kirk DeHeer.
Plan A was to mount a 6 inch grinding wheel (80 grit) on a 5/8″ bolt that is mounted to a four jaw chuck. This worked except that there was a lot of runout.
Plan B was to mount the grinding wheel with the bolt to a wooden faceplate. A hole was bored to the size of the bolt. The bolt then is epoxied into the hole. There is still a little runout but usable at slow speed.
So I'm searching for a Plan C to eliminate the run out.
What is your idea?