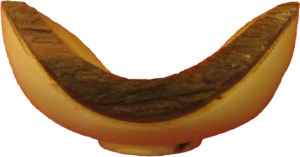 Carpe Diem. Just after watching a woodturning demo turning a small natural edge bowl from a limb, I happened to need to cut a limb from a juniper tree.
Ordinarily, I would have thrown away the wood. But this time, why not turn a bowl similar to what I had just seen demoed? That is exactly what I did.
This is a small bowl turned from a limb from a juniper tree. It is sanded to 400 grit and finished with walnut oil.