by
Alan Stratton
on Friday, December 20th, 2013 |
Comments Off

on Woodturning A Snowman WIth Cultural Diversity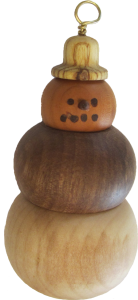 We're celebrating Christmas with a Christmas Ornament Woodturning Challenge. This is my next entry for this year.
This snowman is demonstrating "Cultural Diversity" by including four different domestic hardwoods:
Maple – Bottom snowball
Walnut – Middle snowball, nose, & coals for mouth and eyes
Cherry – Head snowball
Laburnum – Hat
He is finished with mineral oil and beeswax and weighs in at 1.75 ounces. As an extra bonus he rattles when shaken.
Merry Christmas.
View the complete challenge playlist here.