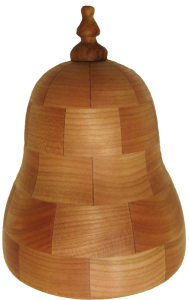 Here's my next entry to the annual Christmas Ornament Challenge that Carl Jacobson and I are sponsoring.
This is a segmented Christmas Bell to sound off at the birth of the baby Jesus. Its body is made of apricot with 5 rings of 8 segments each for 40 total segments. In addition, it has a handle and a knocker made from laburnum or golden Chain. It is finished with walnut oil.
Simple Challenge Rules:
Make an Christmas ornament.
Project of your choice in the spirit of Christmas
Make a video of you making the ornament.
A good learning experience
Upload the video to YouTube
A piece of cake.
Let me know the link to add your video to the playlist.
Another piece of cake.
Enjoy your ornament consistent with the season.
After all that cake, why not.
Here's a link to the complete playlist for this year.