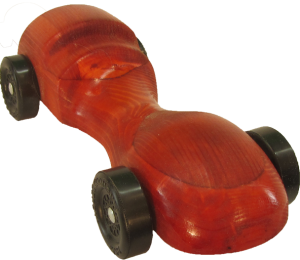 When my son came over with his children to make their pinewood derby cars, he also challenged me to turn one on the lathe. I did not have a clue how to turn one — until the light dawned.
So, I did not one but two. How do you turn a car on a lathe, you ask?
It "turns" out that if you turn two pinewood derby cars at once, you can.
Prepare two blanks at least regulation size
Glue them together bottom of car to bottom of car with craft paper between the blanks.
Turn your cars but leave the wheel area square to support the axles and maintain the wheel spacing. Be careful because your dual car blank is not a round turning — it has flat portions. So, you'd be cutting a lot of air at the same time.