by
Alan Stratton
on Thursday, February 20th, 2014 |
Comments Off

on Easy Woodturning Project – Mini Kaleidoscope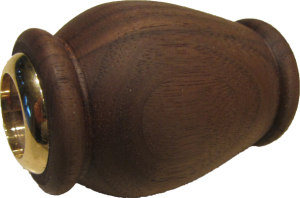 My brother returned from a vacation at Sedona Arizona with a kaleidoscope and pictures of kaleidoscope. He challenged me to do something similar.
However, before going all out, I decided to complete a couple of "Mini Kaleidoscope" kits that I've had on hand for quite a while.
My kits originally came from Craft Supplies USA.
I made two: one from walnut; the other from padauk. They are about 1.5″ in diameter and 2.25″ in the wood body plus the brass ends. They are finished with my mix of beeswax and mineral oil.
With the mini kaleidoscopes completed, I can move on to larger ones.