by
Alan Stratton
on Thursday, February 13th, 2014 |
Comments Off

on Saguaro Cactus Necklace Holder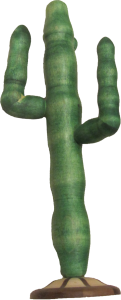 I chose to turn this cactus shaped necklace holder as I'm "on-location" in Arizona. To me, it is an exercise in slicing a woodturning and re-gluing it for a different effect. At the same time, since I don't have access to a drill press, I used my lathe to drill holes in the side for the cactus arms.
Despite all this, it still will serve nicely as a necklace holder.
At least that's my story and I'm sticking to it.