by
Alan Stratton
on Thursday, February 6th, 2014 |
Comments Off

on Segmented Valentine's Candy Heart Box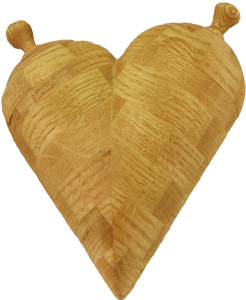 How do I turn a heart on a lathe? I need one for Valentine's Day. Everything around Valentine's day seems to require some form of a heart. I wonder why!
This candy box is segmented red oak. It has a 104 segments: 2 lids with 24 segments each; the body has 56 segments. After adding the 2 finials, 106 pieces of wood make up this heart shaped candy box. Because it holds editable items, I finished it with beeswax and mineral oil.
So – a heart shaped box – no problem. I'm ready for Valentine's Day.