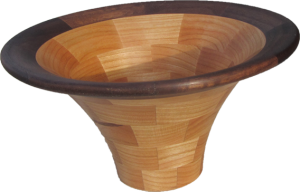 I've been "on location" for some time. A neighbor, Roger Dokken, has helped me with my shortage of woodturning equipment such as a table saw and miter saw. He has also kept me and my wife supplied with lemons, grapefruit, and oranges.
Before returning home, I want to give Roger something in return. I also want to experiment with a bowl with a convex profile, opening wide at the top to welcome anything. I also wanted a contrasting lip or edge.
The problem with this concept is the wood for the lip. In most segmented turning the segments are glued up in a brick lay fashion on top of each other. When the bowl goes into a wide sweep such as the top of this bowl, usually the segments have to be very wide. This, compounded with the sweep makes the segment appear even wider. To counter this, I planned to joint the lip ring with a mortise and tenon approach. If successful, the rim would appear much more narrow than otherwise.
This bowl is finished with walnut oil.
Enjoy!