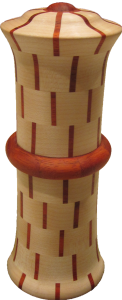 Sometimes I need reading glasses, but they're never where I need them. Sometimes they get squashed, bent and otherwise mangled.
Here's a solution – a beautiful case. Make as many as you want to have one with a pair of reading glasses anywhere you may need one.
This case consists of 11 rings: 10 of maple and padauk and one of only padauk. Each maple and padauk ring has 16 segments. Add in the end plugs for a total segment count of 170 pieces. It is finished with my mix of beeswax and mineral oil.
Now I can see.
Enjoy!