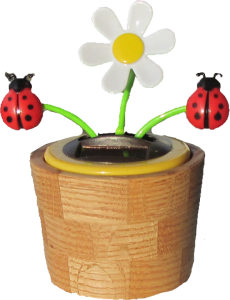 It has been a tough winter for many people; and spring is having a tough time getting underway.
Let's help it along with a solar powered dancing flower. The flower mechanism is purchased at a local dollar store. The project is to turn a nice wood cup to hide the awful plastic.
I grabbed a hunk of segmented wood from another project and went to work. The wood could have been anything and almost any orientation.
Mine is 24 segments of oak finished with beeswax and mineral oil.