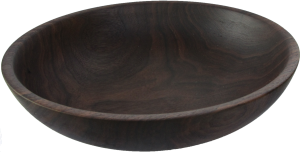 While waiting for my recent wet walnut bowl to dry, I decided to actually finish another one I rough turned several years ago. (It did not really need that long to dry).
This bowl I held between a closed chuck and the tailstock to refine the mounting tenon and then to re-turn the exterior. While I was at it, I sanded and finished the exterior with walnut oil.
After reversing in again into the tenon, I turned, sanded and finished the interior.
Then reversing it yet one more time to complete the foot.
I think it's beautiful. I hope my sister can enjoy it.