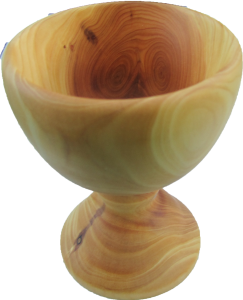 While at the Utah Woodturning Symposium, I participated in the Egg Cup Turning contest. In the contest, either two individuals or two teams of two woodturners competed against each other to turn an egg cup as quickly as possible. Many who had participated in previous years turned their egg cup in about 30 seconds. My time was about 2 1/2 minutes. Not bad but not the fastest. Mine was decent but not what I call a finished piece.
Upon returning home, I decided I needed to turn another egg cup to satisfy myself that I could do better not in terms of time but in a finished piece.
This egg cup is juniper finished with beeswax and mineral oil.
I'm happy with this egg cup although I don't like soft boiled eggs and will never use it to eat an egg. Now I need to turn an wood egg to display.