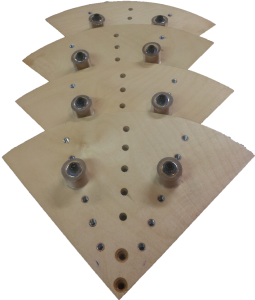 I've needed a set of large chuck jaws to remount bowls in order to turn their bases. I've used jamb chucks successfully but want to expand my options but not pay the high price of commercial cole jaws. So, I've made my own 17″ wood jaws to fit my vicmark chuck.
Steps:
Cut plywood to the size desired. Do NOT cut into individual jaws.
Layout the center, 45, and 90 degree lines.
Position a set of metal jaws on the plywood and mark the hole positions.
Punch and drill holes for mounting to the chuck. Counter sink.
Mount plywood to the chuck base.
Using the lathe, mark concentric circles 1 inch apart.
Saw the jaws apart and shape them.
Center punch the intersection of the 45 degree lines and the concentric 

circles.

Drill a 1/16 hole at each intersection.
Drill a shallow hole for the t-nut flange on the reverse side — using the small hole for guidance.
Drill holes for the t-nut shaft at each intersection.
Epoxy t-nuts to jaws ensuring no epoxy gets onto the threads.
Slide vinyl tubing onto a dowel.
Cut the dowel and tubing to 1 inch lengths for posts.
Using the lathe, center drill each post.
Glue the vinyl tubing to the dowel
Sand and finish to taste.
Materials
Baltic birch plywood
8 bolts matching those used for your chuck for longer for the additional thickness of the plywood.
8 Cap screws long enough to go thru the post and the plywood base but no further (safety)
T-nuts for all intersections
1 piece 3/4″ hardwood dowel
12-16″ vinyl tubing 3/4″ ID
Turn a beautiful bowl base.
Be Safe – Use slow speeds appropriate for wood jaws.