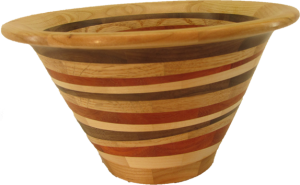 While at the Utah Woodturning Symposium I picked up a book about Ray Allen showing his segmented work. It was inspiring and inspired this project.
Normally, segment rings must have perfectly parallel faces or else the bowl looks weird. In this case, I want the bowl to look weird — the rings are deliberately not parallel.
After gluing up the rings, I sawed them on the band saw in a somewhat diagonal manner. Then proceeded to glue up the rings to make a droopy bowl before turning it.
Woods in this bowl are: cherry, maple, padauk, oak, walnut. There are 112 segments plus 1 plug in the bottom. It is 8 inches in diameter and 5 inches high.