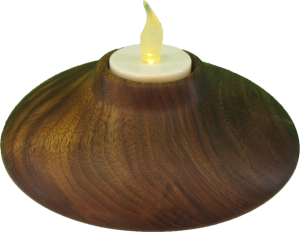 After I made the UFO spaceship for E.T. a few weeks ago, a viewer suggested it could also be a tea light.
Well, how do you turn a UFO into a tea light? Tough question.
So, I started over with a new piece of walnut about 7″ x 3″. I wanted a recess to hold a LED tea light. As the design evolved, I realized it could also be reversible. I've hollowed out the interior to make the form very light.
However, there is no access to the interior.
How did I do that?