by
Alan Stratton
on Thursday, October 23rd, 2014 |
Comments Off

on Woodturning My Prototype Open Flower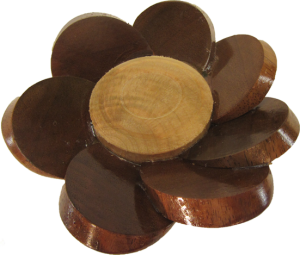 Sometimes I bite off more than I can chew. Perhaps this is the case with this flower. The idea came from a crocheted yarn broach given to my wife. I liked the idea of radiating flower petals tilted up and overlapping.
This video is my first attempt. While the flower looks ok, it was difficult and frustrating and not quite what I expected. So, I'll be refining this approach for future flowers. I cannot expect perfection in the first iteration.
This flower is walnut and maple finished with lacquer.