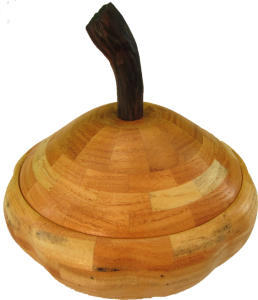 It's harvest time – pumpkins are showing up all around in preparation for Halloween and Thanksgiving. This pumpkin is a segmented turning from Honey Locust. The wood is mostly an orange color with lighter sap wood. The sap wood has worm holes and dark stains from insects. The stem is turned and carved from walnut.
The segment rings are glued up from 12 segments each. There are 12 rings for a total of 146 pieces of wood.
This pumpkin is finished with Clark's Cutting Board Finish, a two part finish consisting of mineral oil, citrus oils, beeswax and carnauba wax.