by
Alan Stratton
on Friday, December 5th, 2014 |
Comments Off

on Woodturn A Molecule Christmas Ornament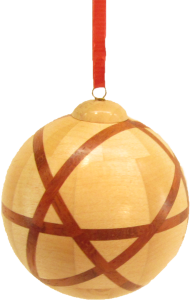 This year I really wanted to make this ornament, a maple globe with orbiting padauk resembling a molecule or, in a stretch, a planet with moons.
This one was fun. I started with 5 segmented rings of 12 segments each: 4 maple and 1 padauk. Then I sliced the padauk into 6 slices but only used 5 of the slices. At this point my segment count is 108. But wait there's more.
After gluing into a ball, I sliced the ball 4 times and inserted one thin slicke of padauk each time, gluing it back into a ball each time. How many pieces of wood now? who knows. I've not counted. Finially add one more piece for the finial.
The ornament is finished with shellac friction polish.