by
Alan Stratton
on Friday, February 20th, 2015 |
Comments Off

on Woodturn Natural Edge Fig Bowl – My Smallest Yet?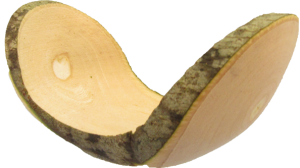 May also be viewed on YouTube.
This is another project from pruning my fig tree. It is a bowl turned from this small about 2.5 inch diameter limb.
This project was a challenge due to its size. It is too small to mount in my standard chuck jaws. I have smaller jaws but I do not trust a tenon that small to not shear while I'm turning it. So, after some consideration, this video shows how I turned this small limb bowl. With its natural edge and small diameter, it is cute.
The bowl is about 4 inches long, 2 inches wide and 2 inches tall and finished with walnut oil. It will need more hand sanding when the wet wood dries.