by
Alan Stratton
on Friday, March 13th, 2015 |
Comments Off

on Woodturn Segmented Hash – Art From Leftovers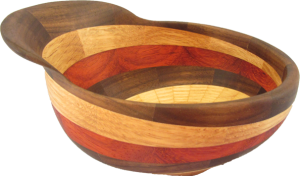 Also may be viewed on YouTube.
Leftover Time!
I've accumulated some segment rings leftovers from previous projects. Most are from my Crazy Droopy bowl that have a taper on the rings.  Rather than make new rings, I'll make these into this project.
The first two rings are flat and not very tall. These will make the base. The first is cherry with 12 segments; the second is oak with 24 segments. These I glued to a threaded wood faceplate.
The next rings are 8 segment rings of walnut, padauk, oak and walnut. These total 69 segments including the walnut plug in the base. All of these rings have a taper.
This bowl presented a challenge in gluing the rings to the base as they had a strong tendency to slide and were difficult to clamp. Actual turning resembled multi-axis turning and natural edge turning. I carved three feet into the foot instead of a round base.
Not bad for leftovers!
The bowl is 5 to 6 inches in diameter and 2 to 3 inches in height finished with walnut oil.