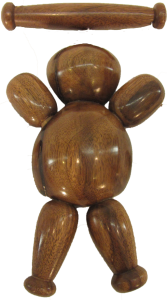 May also be viewed on YouTube.
In this project I re-create a climbing bear I had made for my children with one significant improvement — he's round. The former bear was a flat piece of wood in somewhat the shape of a bear. While any self-respecting wild bear my not recoginize this one, I do and I think the next generation, my grand children, will recognize.
This bear is a split turning, meaning that there is another just like him from the other half of the blank. In addition, I turned his four legs, top bar, and beads.
He is finished with shellac friction polish which is then buffed to a nice shine.
Alternatively pulling his cords helps him climb up.