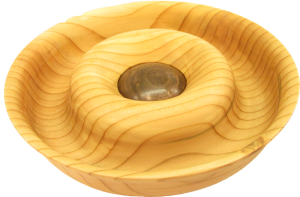 May also be viewed on YouTube.
After returning from the Utah Woodturning Symposium, I felt I needed to break out, break away from my habitual projects.
So, I found this chunk of cedar and went to work on it. It wasn't the best piece of wood but I managed to turn a wavy profile.
It turns out to be an unusual double sided bowl. If you've seen one like it, I'll be surprised.
Maybe it works for you, maybe not. But it works for me.
Approximately 11″ x 2″ finished with walnut oil.