by
Alan Stratton
on Friday, July 10th, 2015 |
Comments Off

on Bowler Hat Bowl For Woodturning Club Demo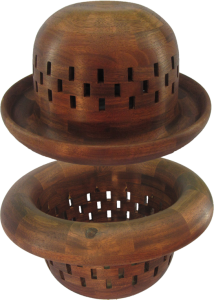 May also be viewed in YouTube.
I made this segmented bowl in preparation for a segmented turning demo at Williamette Woodturners. Bryan wanted an introduction to segmented turning with a hat theme. The introduction included both open and closed segmented process to create this bowl.
In response, we selected a bowler had with both closed and open segments. The hat's brim is a special challenge as it is a narrow area to turn.
This bowl is walnut with nine rings: 6 closed segment rings and 3 open segment rings. Closed segment rings have 12 segments. Open segment rings have 18 segments. Inlcuding the top plug, this totals 127 pieces fo wood. It is finished with walnut oil.
To cut segments I used a sliding table designed by Jerry Bennett. I made the sliding table, depth stop, zero clearance segment deflector, 15 degree template, and 8 degree template. Search for Jerry Bennett Wedgie Sled for plans.
Good turning.