May also be viewed on YouTube.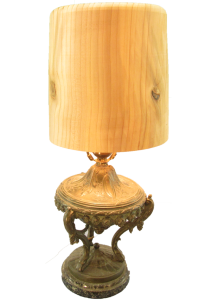 My best learning comes from watching someone turn a fantastic project and then making it myself. Soren Berger did a great demo of a lampshade. So I had to try one myself.
My lampshade is Atlas or Titan Cedar which is more dense than the more common western red cedar. It is about 7 1/2 inches in diameter and 8 inches high. I'm leaving it not sanded and without any finish.
With the depth inside the lampshade, this was tough going. I feared that at any moment a catch would destroy my work.
Yet both the lampshade and I survived the experience.
It was challenging.
Good turning.