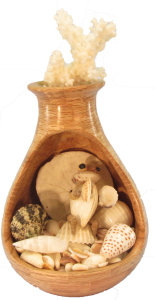 May also be viewed via YouTube.
At a recent business meeting at a hotel, I saw some strange chairs around their pool area. A light flashed on in my head: "Could I turn something like that?" Well, certainly not a chair of that size but how about a vase.
I'm calling this vase a Peek-A-Boo vase since it has a large opening in its side. Rather than sitting down in this area, I can use it for an attractive display. For an example, my wife created a scene with seashells and coral.
The vase is a segmented turning from oak consisting of 14 segmented rings of 12 segments each totalling 168 wood pieces. The base is one segment ring with home-made oak plywood inset so that no plywood shows in the profile. A buffed shellac friction polish completes the look.
BTW, if you need a 1.25″ x 8 tpi bolt and nut, search for A193B7, the specification. Mine came from FMW Fasteners.
Good turning.