by
Alan Stratton
on Friday, October 23rd, 2015 |
Comments Off

on Pyrography For Lid Of My Segmented Utility Bowl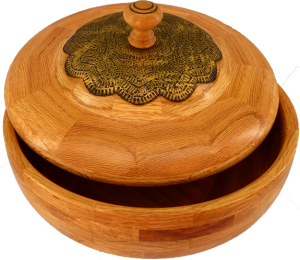 This video may be viewed on YouTube.
This video builds on my last video to make a lid for my bowl. It went well except for the home-made plywood I used in the lid. I had expected it to blend well to make the lid. While it sanded well, and had a smooth surface, it did not look right at the size it was and for the more visible top of the vessel.
Last year, I took a workshop from Graeme Priddle. More recently, I took another from Molly Winton. Both used pyrography or woodburning to enhance vessels. I decided to enhance the look of the lid by burning a pattern over the plywood area.
To burn, I used three burning tips: a skew for the outline; a large basket weave for the outer fill; and a ball point to stipple the inner fill. After burning, I painted the area with black gesso. Finally, I burnished the burned area with RubnBuff to give the high points a gold luster.
The lid is three segment rings with twelve segments each for thirty-six segments. The lid is finished with walnut oil like the bowl portion. At ten inches in diameter, the lid add about two more inches to the bowl's height.
Good turning.