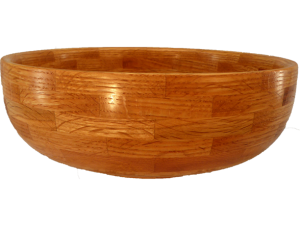 Also may be viewed on YouTube.
Recently a viewer asked for the segment sizes for a lidded bowl. Normally, I'm willing to share details except that from the tone of the email, I thought that he wanted to make the project without any understanding of how to figure out segment sizes.
I believe that anyone doing segmented work needs a basic understanding of how to design and calculate segment and ring sizes.
Since not everyone is as comfortable with a computer as I am, I decided to take a low tech approach to designing this lidded bowl. Then anyone with or without a computer can easily figure out segment sizes to any segmented project they want.
This bowl is oak, almost 10 inches in diameter and 3.5 inches tall, finished with walnut oil, and buffed.
The bowl has seven segment rings of twelve segments each for 84 segments plus a piece of home made oak plywood. The plywood prevents segments from splitting when closely spaced in the bottom.
Good turning.