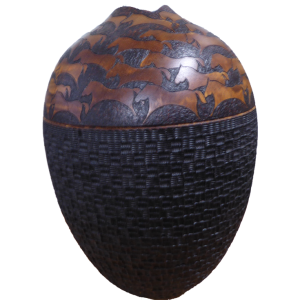 May also be viewed on YouTube – But please stay here if you can!
For this video, I have a special guest, Molly Winton. I recently attended one of her workshops where she taught pyrography or woodburning. She was a great teacher and gave me the bug — I have to incorporate wood burning into some of my projects.
In this video, Molly demonstrates making her basket weave tip and how to best use it. She uses 20 gage wire (sometimes 22 gage). She uses a hex drill bit as a mandrel that is cut off where the flutes begin. A vise grip holds nichrome wire to the hex part of the mandrel. She wraps the wire five times, removes it from the mandrel, then straightens and trims the leads.
Molly's website: http://www.turningmaven.com/
Molly's email: TurningMaven@hotmail.com
If you have a chance to attend one of her demo's or workshops – DO IT!
If you want woodburning tips pre-made by Molly visit Packard Woodworks at http://www.packardwoodworks.com/
Here's a link to my Vaporizer (power supply) video
and a link to my woodburning pen and a link to my first woodburning project.
Good turning.