May also be viewed on YouTube – Be better here.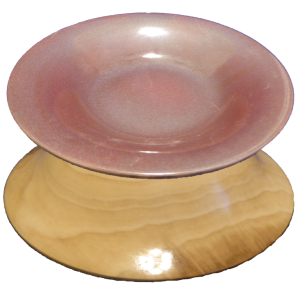 Happy New Year.
I started work on this poplar dish to prepare for a airbrush workshop taught by Jay Shepherd at Williamette Valley Woodturners. The poplar is approximately 9″ diameter and 2″ tall. Initially, I finished it with shellac friction polish to seal the wood.
Then at Jay Shepherd's workshop, he recommended that I paint only the interior of the dish with an iridescent brown acrylic paint with my airbrush. That part was easy. The harder part then is to apply a rattle can clear lacquer and wet sand between every 6 to 10 coats.
I've made it thru 220 grit wet sanding and have added new layers but not enough to sand with 400 grit. Sanding is to remove any imperfections and orange peel and build a finish so that the surface reflects like a mirror.
My last sanding will be with 600 grit paper.
For the lacquer spraying, I made a stand to hold the dish while I spray the lacquer.
Good turning.