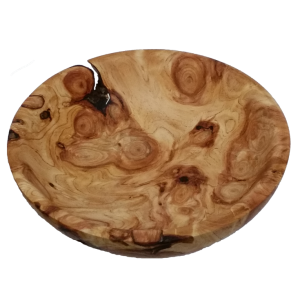 May also be viewed on YouTube – But Better Right Here!
Finally, the intermission is over and I can turn again. I cannot find all my tools yet but here goes.
I don't know for sure what wood this is or where I obtained it. After turning it, I believe it is pine based on the smell like turpentine.
At the start, I did not know what it would look like. It was a mass of branches coming from a small slice of the edge of a tree.
However this 8″ by 2″ bowl surprised me with it convoluted figure and grain. Some of the bark inclusions were soft and punky — these I gently scraped out.
The bowl is finished with beeswax and mineral oil. Once I find my buffing wheels, I'll buff it for a great sheen.
Meanwhile, I need to work on re-establishing my turning studio – aka shop.
Good turning.