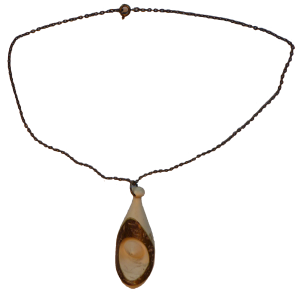 May also be viewed on YouTube – But best right here!
I enjoyed the 2016 Utah Woodturning Symposium. I plan to soon turn my version of many projects and techniques I saw there. The inspiration for this one is Linda Ferber, who makes wood components to jewelry.
This pendant is hazelwood pruned from my back yard. I mounted it in my home made wood chuck jaws to turn a small button on its side. The wood was tilted to put the button on a different axis for more interest. After turning the button, I remounted the wood between centers. However, I also offset the turning axis toward the side with the button. As a result, as I turned a teardrop shape, the bark formed a natural edge border around the button. After finishing with shellac, I buffed this amazingly white wood and mounted a jump ring to connect it to a necklace.
It was a fun little project that I will do more with.
Good turning.