by
Alan Stratton
on Thursday, June 2nd, 2016 |
Comments Off

on Woodturning Jewelry – Multi-Axis Necklace or Brooch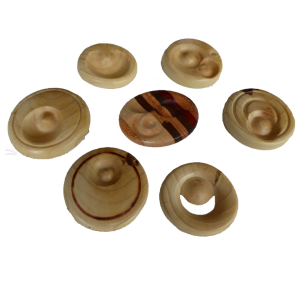 May also be viewed on YouTube – But best right here.
In this video, I'm trying out another project from the 2016 Utah Woodturning Symposium. Again, I credit Linda Ferber.
These are thin wood disks with decorations like buttons turned on the face. To turn these buttons, I used a very cheap, easily made chuck to fit my usual chuck. The chuck tilts the turning axis away from parallel. This gives the turning a unique look.
I turned a chunk of cedar round with dove tail tenons on both ends. Then at a chop saw, I clamped the wood to the saw and sawed a 20 degree cut. Then adjusted the cut to 10 degrees and trimmed the wood a little more. This yielded two chucks that I'll call skew axis chucks. I used hot melt glue to mount wood disks to the chucks although I recommend double stick tape.
The brooch is turned first as a cylinder then about one quarter inch is parted off after cleaning up what will become the back side. Then the disk is flipped over and fastened back onto the cylinder it just came from. This mount enable the face to be trimmed and sanded. Then the disk is mounted yet again to one of the skew axis chucks in any desired offset from center. A button can then be very carefully cut and sanded. On some brooches, I offset the disk up to three times for different decorations.
Most brooches were apple wood. One was from a multi-wood blank from a previous project. Each was finished with shellac and buffed.
Afterwards, I glued on a finding from Fire Mountain Gems that allows the brooch to be either a necklace brooch or a pin.
Good turning.