by
Alan Stratton
on Friday, July 22nd, 2016 |
Comments Off

on Woodturning Box Lid with Multiple Eccentric Axes For Unique Look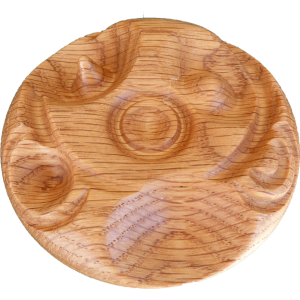 May also be view on Vimeo and YouTube – But best right here.
In the last video I turned a set of stacking boxes. My boxes need an interesting lid for the top most box – one that will provide interest and enhance the boxes.
The Infinite Axis Chuck provides a solution. The lid is red oak finished with walnut oil then buffed. The oak was shaped initially with standard techniques with one important feature. I cut a mortise on the underside to serve as an expansion hold while the top side was tooled. This mortise later served as the gluing surface to mount the wood to the Inifinite Axis Chuck.
The tail stock provides a clear indicator of where the turning center will be. The ball and tenon is moved to select the center of a new turning. Only light cuts with a spindle gouge are required, followed by sanding.
I've added a new page to my web site to define woodturning terms. The goal is to provide clarity about woodturning styles. Here's the link. Your feedback will be appreciated.
I repositioned the chuck five times. The design is unique and can never be exactly duplicated.
Good turning.