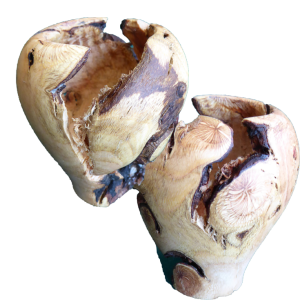 May also be viewed on YouTube or Vimeo – But best right here!.
I dug up a rose bush from my garden and saved the root. It was not very big but I thought that I'd try to turn something: either a small hollow form or a small vase depending on how the wood turned.
Well, turning was easy; keeping the wood mounted to the lathe was a frequent and big problem. I could not get an adquate grip with either hot melt glue or medium CA glue. I finally had to cut a mortise and tenon and use yellow glue.
After all that, the vase started to come apart due to the voids and cracks in the root ball.
In the end, the little 2″ vase has unique figure. I'll be on the lookout for larger rose roots for future projects.
Good turning.
Watch this space – Christmas Ornament Woodturning Challenge is coming in November.