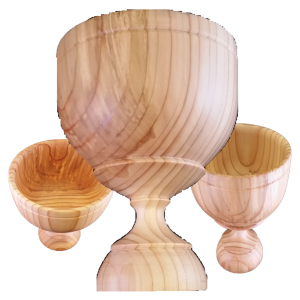 May also be viewed on YouTube, Vimeo, or Facebook. But best right here.

My mother has had a turned redwood vase for as long as I can remember. Upon reading the inscription on the base, my grandfather made it from redwood they obtained from a visit to the Redwoods two years before my birth.
My mother loves this bowl.
At our home in Portland, we had a large cedar tree that my mother liked when she visited us. We had to cut it down but I've saved some of the wood.
I'm going to turn another vase for my mother. This one from the cedar. Maybe she'll put them together: one from her father; one from her son.
The vase is Titan cedar about 6 inches in diameter and 7 inches tall, finished with walnut oil and buffed. The turning blank was so large, I had to use my steady rest to keep the wood in the chuck. Here's a link to the video where I updated the steady rest.
I've woodburned an inscription recognizing my grandfather in the base.
Good turning.  Don't forget the Christmas Ornament Woodturning Challenge coming in November.